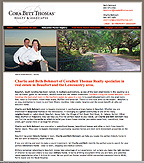 Est 2003 for Beth and Charlie Bohmert. Redesigned for MLS/IDX integration 2007. Automated and personalized real estate site. This site sells homes and property, and the customer can add new listings just by adding them to her MLS site. Beth Bohmert was awarded Realtor of the Year in 2019! Hosted by KMS.





Broxton Bridge Plantation, Ehrhardt, SC; maintained by KMS since 2005 and slightly redesigned in 2010. We added an events calendar and made a fan page for Broxton Bridge on facebook which works directly with the web site. Further promotion for Broxton Bridge includes photography, a b/w ad for SC Game Warden Magazine, an event flier and a glossy 4-color brochure (click to download small version). Hosted by KMS.



Est. 2004. A personalized web site for talented musical performer, Cheryl Christine. This site is set up to inform the public and to receive fans who can join her mailing list. Cheryl sells CDs off the site. There is a special emphasis on CDs created just for cats and dogs. Hosted by KMS.